Cardiologist Dr. Anthony J. Passannante, Jr., MD FACC
 
Background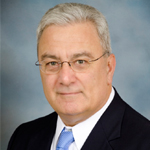 Dr. Passannante joined the Cardio Metabolic Institute in April 2013. He formerly served as Managing Partner and President for over 20 years at the New Brunswick Cardiology Group, PA.
---

Education
Dr. Passannante received his Bachelor's Degree in Biology with a concentration in Neuroscience from the University of Pennsylvania and went on to earn his Doctor of Medicine Degree from The Mount Sinai School of Medicine in New York City. He completed his Internal Medicine Residency Training at Saint Vincent's Hospital and Medical Center in Manhattan. He then went on to complete a Fellowship in Cardiovascular Medicine at the University of Medicine and Dentistry of New Jersey (UMDNJ) in New Brunswick, NJ. He is a Fellow in the American College of Cardiology and is currently working toward his Master's Degree in Healthcare Quality and Safety Management at the Thomas Jefferson University in Philadelphia.
Dr. Passannante is board certified in Internal Medicine and Cardiovascular Disease. After graduating from the University of Pennsylvania, Dr. Passannante received his medical degree from the Mount Sinai School of Medicine, received his Internal Medicine Training at Saint Vincent's Medical Center and earned his Cardiovascular fellowship at Rutgers Medical School. Dr. Passannante has been practicing cardiology since 1986.
---
 
Professional Accomplishments
He worked at Saint Peter's Healthcare System as Director of Performance Improvement (2009), Co-Chief Quality Officer (2010) and then as Chief Medical Officer between from 2011 to 2015. In that capacity, he oversaw the Quality Management Department, Medical Staff Office, Department of Research, the Institutional Review Board and the Medical Library. Dr. Passannante was elected to the Saint Peters Medical Executive Committee for 18 years and also served as President of the Medical Staff. In addition, Dr. Passannante served as the President of the Saint Peter's Healthcare System Physician Associates, P.C. In 2011, he was named to the N.J. Department of Health and Senior Services (NJDHSS) Quality Improvement Advisory Committee (QIAC).
In September 2015, Dr. Passannante joined Palisades Medical Center as Vice President of Medical Affairs, Chief Medical Officer and became President of the Palisades Medical Associates, P.C. In addition to his oversight of the Medical Staff Office, Quality Management, Risk Management, Safety/Infection Control, Continuing Care and the Hospitalist program, he also manages the Graduate Medical Education Program, including over 100 residents, and leads the clinical integration effort with Hackensack University Medical Center.