Visit our Fullscript dispensary site to get a discount on the highest quality products!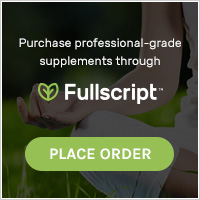 What is functional medicine?
Functional medicine practitioners dive deep into each patient's history, physiology, and lifestyle to prevent and treat illness. The genetic makeup of each patient is considered, along with both internal (mind, body, and spirit) and external (physical and social environment) factors that affect overall health. A functional evaluation often demonstrates how one condition can have many causes or contributing factors, and one issue or cause can lead to many conditions or symptoms.
How does functional medicine differ?
Functional medicine aims to optimize health by addressing the "root cause" of diseases and/or by preventing diseases from developing primarily through lifestyle modifications. This approach often integrates less "traditional" practices such as acupuncture, and emphasizes alterations in nutrition, movement, sleep, and stress management.
Functional medicine is highly individualized, and sometimes includes the use of specialty diagnostic techniques (including advanced lab testing) to better evaluate the root cause of disease, as well as to track progress. Treatments may include a combination of conventional medications, botanical or herbal supplements, vitamins, and detoxification programs depending on the needs of the patient.
Are functional medicine doctors "real" doctors?
YES! Dr. Branton is a board-certified family medicine physician with additional training in non-traditional treatment approaches.
Want to learn more? Visit the Institute for Functional Medicine (IFM) website for more information.